Church cleaning near me in Upstate SC is as easy as calling (864)-249-5555. Don't waste your time searching through thousands of online listing services to find a church cleaning service in South Carolina. Additionally, avoid using big branded corporations for your church cleaning. Big branded cleaning corporations are a bane for our industry because they lack consistency. In this industry, consistency is the key to providing clients with adequate cleaning and maintenance services. Always opt for locally based cleaning service providers like Upstate Janitorial because we pride ourselves on our consistency and ability to work with clients.
Who offers Church Cleaning In Upstate SC?
Upstate Janitorial offers church cleaning near me in South Carolina. Our team has over 20 years of experience cleaning churches in South Carolina, and we know how to get the job done right the first time. We have all the necessary cleaning tools, training, and attitude to clean and maintain your church daily.
How much does Church Cleaning Near Me in South Carolina cost?
Depending on a few factors, the cost varies for church cleaning near me in South Carolina. First, we need to determine the total cleaning and maintenance area. In some cases, our teams are directed not to clean areas of buildings because they do not belong to the church. Secondly, we need to determine how often cleaning and maintenance services need to be rendered. And lastly, we calculate everything together and come up with an honest quote to reflect the cost of church cleaning services. Contact our expert church cleaning professionals, and we will give you a free consultation to analyze your church and answer all of your questions and concerns about cleaning and maintenance services from Upstate Janitorial.
How do I schedule Church Cleaning Near Me in South Carolina?
Call (864)-249-5555 to schedule a church cleaning near me in South Carolina. Our friendly customer support specialists are here to help. You can also use our easy contact form here to contact our customer support specialists digitally. Let us know your church cleaning needs. We will happily send professional church cleaning professionals to give you a free consultation and show you everything Upstate Janitorial can do to keep your church clean, maintained, and ready to operate.
Why should I choose Upstate Janitorial for my Church Cleaning needs Near Me in South Carolina?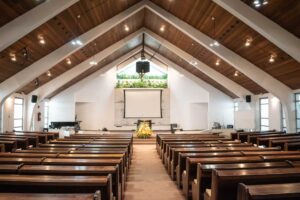 For several reasons, Upstate Janitorial is the top choice for your church cleaning needs near me in South Carolina. First, our teams consistently and efficiently clean and maintain services without micromanagement. Second, we are fully equipped with the right commercial cleaning equipment to keep your church clean and maintained. And lastly, Upstate Janitorial and our workers go out of their way to keep the lines of communication open with our clients. Interested in changing your cleaning and maintenance program? No problem; we will work with you to devise the ultimate cleaning and maintenance schedule to meet your requirements.
If you want church cleaning near me in South Carolina, call Upstate Janitorial at (864)-249-5555 to schedule a free consultation with our church cleaning experts. We can take the stress of cleaning and maintaining your church off your mind. Upstate Janitorial is local, hires local, and will always support local churches. Feel free to contact us even if you already have a church cleaning service. We will be able to determine if you're overpaying for your current church cleaning services.
Proudly Serving: Greenville, Easley, Spartanburg, Lyman, Duncan, Greer, Taylors, Simpsonville, Fountain Inn, Travelers Rest, Powdersville, and other areas in South and North Carolina.
Here at Upstate Janitorial, we hold the cleanliness of your Church with a high level of cleaning standards. We help your House of Worship with the cleanliness of your facilities.