There is nothing quite looking at the before and after pictures when vinyl composite tile(VCT) gets stripped and waxed. In South Carolina, VCT flooring needs stripping when it starts to look worse for wear because your flooring can become a legal liability if left to fester. Dirt, scuff marks, and bacteria build up on your VCT floor over time and the only way to bring your floor back to its original state is to strip the surface completely. Contact Upstate Janitorial if you are looking to strip your commercial VCT floor in South Carolina. We have highlighted a before and after in this post and would love to help perform a before and after for your flooring after we have done our job.
Why does Vinyl Composite Tile get so dirty?
VCT flooring is a great material because it is strong, durable, and low maintenance. However, VCT flooring also has microscopic cracks on its surface that allow dirt and other particles to accumulate creating a "dirty" look. A mop and bucket have no chance at breaking this dirt free from the surface because it is stuck on the microscopic level. The only way to remove this type of dirt and grime from VCT flooring is to have the floor completely stripped by trained professionals who have the right training and equipment for the job.
Who offers Vinyl Composite Tile stripping and waxing services in South Carolina?
Upstate Janitorial offers VCT stripping and waxing services in South Carolina. Attempting to strip and wax your VCT floor yourself is a mistake. Hiring a random off of Craigslist to do the work is also a mistake. The only way to properly strip and wax a VCT floor in South Carolina is by trained professionals who know what they are doing. VCT is not a friendly material to inexperienced cleaners because a simple mistake may require the entire floor to be replaced. The cost of replacing your entire VCT floor far outweighs the cost of hiring trained professionals for the job. Do not risk it by going with the cheap options.
How often should I have my Vinyl Composite Tile stripped in South Carolina?
You should have your VCT floor stripped in South Carolina as often as necessary. Foot traffic heavily dictates how often your flooring should be stripped, but there are additional factors that lead to stripping your flooring more frequently. The only way to properly analyze how often you should be stripping your VCT flooring in South Carolina is to contact professionals like Upstate Janitorial. We offer a free consultation in order to discuss your specific situation and get you well on your way to a professionally stripped and maintained VCT floor.
How much does it cost to have my Vinyl Composite Tile stripped and re-waxed in South Carolina?
VCT floor stripping and re-waxing services in South Carolina vary in cost on a few factors. First, the service provider dictates their given price range. Second, the size of your flooring dictates how much work is involved. And lastly, the type of preparation work needed to successfully complete the job. There may be additional costs involved when it comes to preparing a VCT floor for stripping. If you would like to know how much it will cost to have your VCT floor stripped and re-waxed in South Carolina, contact our friendly customer support staff for a free consultation with VCT floor stripping and waxing experts.
Upstate Janitorial is your premier vinyl composite tile stripping and waxing expert in South Carolina. Our team has the experience, tools, and attitude necessary for the job. Give us a call anytime for a free consultation for VCT floor stripping, cleaning, and waxing services. Let us know what you need done and we will gladly help clean and maintain your VCT flooring today.
Before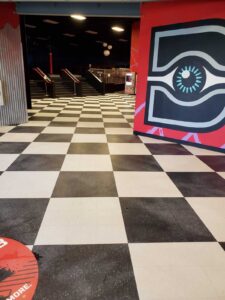 After